* $130 per person on ATV *
+ 13% iva tax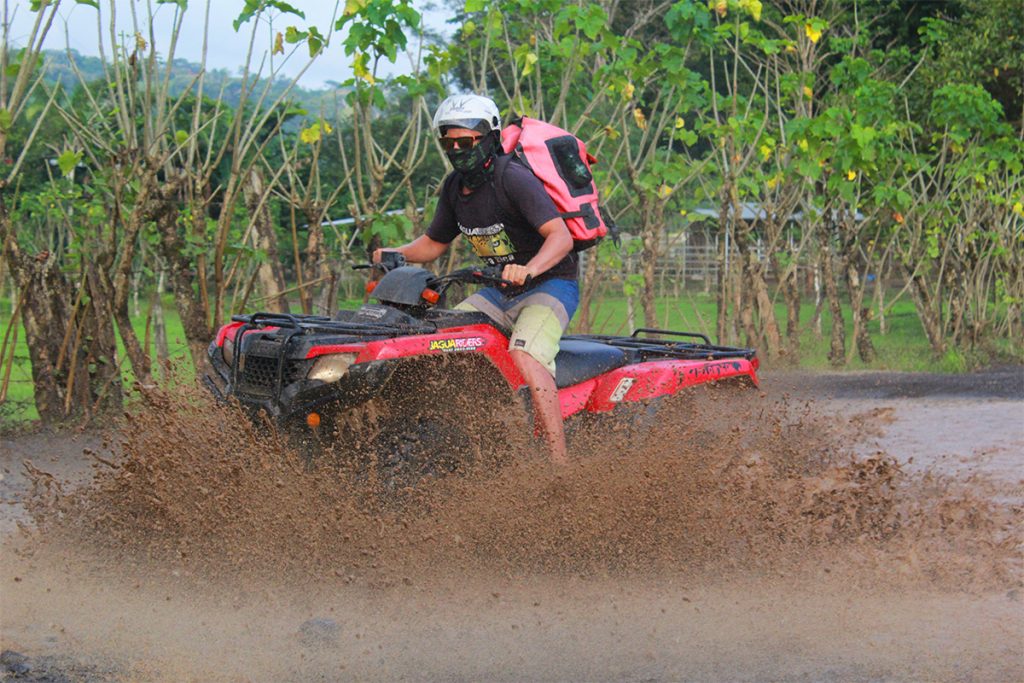 This tour stops at Tulin River, Gamalotillo Waterfalls and El Tigre Sightseeing.
Tulin River: This is a lovely river surrounded by lots of vegetation. We stop on a tall bridge which is a perfect site for pictures. The river is vigorous during rainy season but it is very calm and low during dry season. Depending on the river height we can get into the river for some splashing fun.
El Tigre Sightseeing and Restaurant: This is an amazing work of reforestation in progress! The owner of the farm, born and raised in Costa Rica is a nature lover who has slowly been reforesting a mountainous land that was once used for cattle and did not have many trees left. His goal is to make it a small forest and refuge for wildlife. At first, he built a big roofed deck to contemplate the stunning panorama overlooking the mountains and the ocean in the background. Now it is Jaguariders' exclusive resting area with a typical Restaurant operated by nearby locals. It is a great chance to get some drinks, snacks, a homemade meal or simply relax by feeling the nice breeze while observing great views. Part of the income goes towards contributing to planting trees and feeding rescued animals.
Gamalotillo Waterfall: (Swimmable Pool) This is the most popular destination within our riders. There is a little walk involved on a jungle like trail, beautifully adorned by green vegetation and tall trees. The trail is about 5-minute walk that can be muddy in rainy season. The waterfall is about 30 feet high and perfect for jumping off and splashing water in its natural pool. For those who rather not jumping off, they can just relax and swim in its refreshing waters.
---
Prices